Vietnam Hookers and Escort Guide – 2019
In this article you'll learn where to find Vietnam escorts and Vietnamese hookers.
While you will see Vietnam hookers on your trip, be aware that prostitution is illegal in Vietnam. Even though the police turn a blind eye, you can end up in trouble. Especially if your date did not turn out as you planned and the police are called.
If you want to meet normal Vietnamese girls and not pay for sex, check out this article.
Also many hotels will not let you take a guest back to your room, hooker or a normal Hanoi girl.
So make sure you check they are guest friendly before making your booking.
There are an estimated 30,000 people working in the country as prostitutes, but as a conservative nation it is not renowned for sex tourism and many businesses frown upon it.
J Spa
One of the best places to visit for a happy ending massage in Hanoi is J Spa with prices starting at $26 USD upwards. Price for foreigners and Vietnamese are exactly the same.
Their facilities include the following: sauna, salt rock bath, shared bath/wine bath with massage technicians, full body massage, NURU, HJ, BJ.
They have over 30 separate massage rooms extremely luxurious and clean with modern equipment. Equipped with Himalayan salt rock sauna and water massage bed. Consists of more than 50 girls aged 18-23, extremely beautiful, young and well-trained by Nhung Lady – Director of Vlady Love Academy, a member of the International Association of medical sex learning.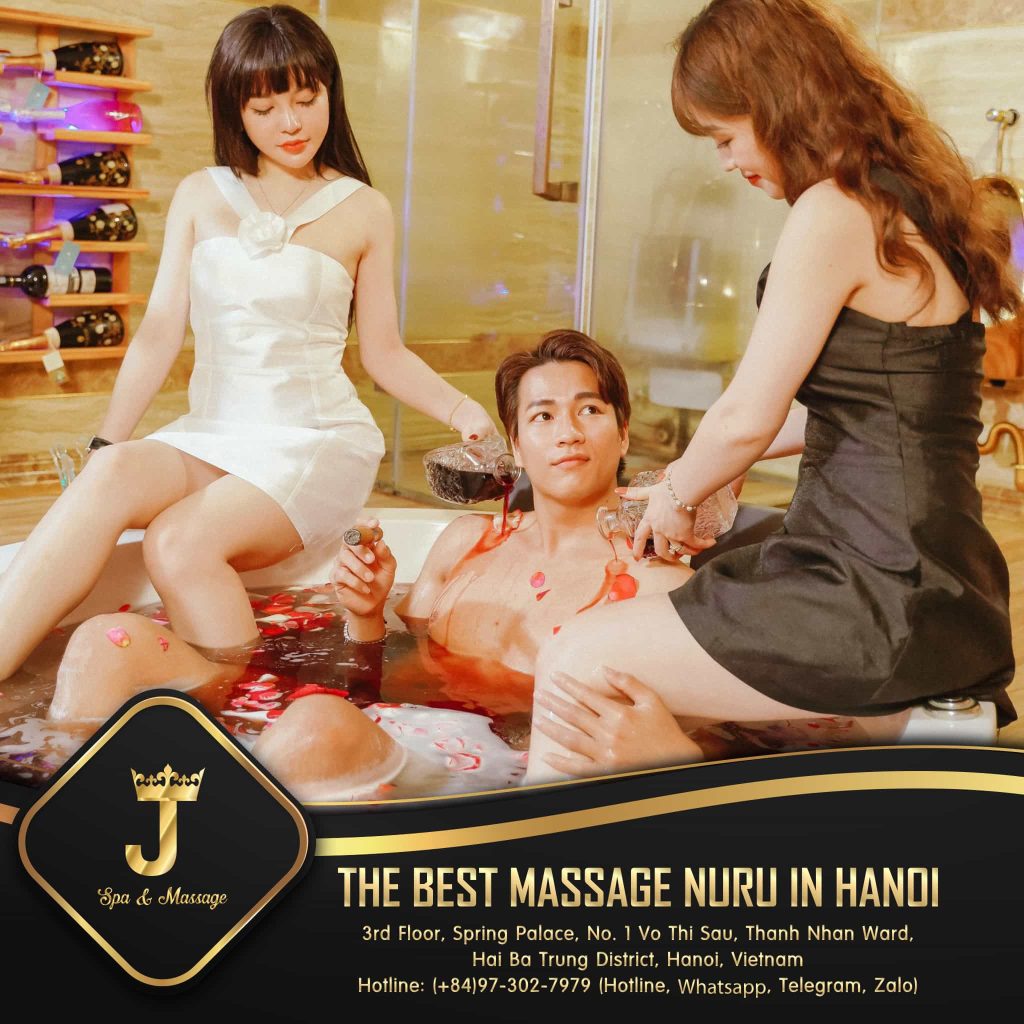 They are located not too far from the center of Hanoi, have great English-speaking staff and accept cash along with Visa and Mastercard (free charge, there is no extra 2-3% fee unlike other shops).
If you'd like to contact them beforehand to book (I strongly recommend this), you can contact them 84-973027979 using Whatsapp, Wechat and Telegram, you check out their website at www.jspamassage.com
Be sure to tell them A Farang Abroad sent you to get that VIP experience.
Vietnam Escort services
Finding Vietnam escorts you can trust is pretty darn hard.
If you do a search online if you're lucky you may come across a few Vietnamese escort sites, but they won't have any reviews online.
Vietnamese prostitute and the sex scene here is not as tourist friendly as Thailand or the Philippines.
On the streets of Ho Chi Minh I was approached by Vietnamese escorts but they all seemed quite mean and forceful.
I was in a beer bar and the next thing I know I hear a bottle of beer fling past my head. They were not aiming for me but someone else and missed.
My friend used an online site I cannot remember to hire a Vietnam escort. The people spoke very good English and sent him several photos of Vietnamese prostitutes to choose from.
The rate was $100, he picked a Vietnamese hooker of his choice and she was on her way.
He said the Vietnamese women directly asked for the money up front (which is normal when you use a Vietnam escort service).
As soon as he handed her the money her mood changed. She told him he only has 15 minutes and did everything you don't want form a Vietnamese escort.
In the end she threatened him and called some people on her phone and spoke in Vietnamese.
My friend has lived in Asia for almost a decade and he said from the start it felt weird and not right.
Not a lot of people visit Vietnam because I think Thailand has a better rep and rightly so.
If you do decide to use a Vietnam escort service I would advise that they have been recommended by a friend otherwise I don't think they are worth the trouble.
You can find Vietnam escorts in clubs and bars and I've heard many stories of the same thing happening, the girl will throw a fit or try and steal from you once back in your room.
If you have tried any Vietnam escort services that you think are good then leave a comment below letting us know.
You can expect to pay anywhere from $100+ upwards for a Escort in Vietnam.
If you were going to try a Vietnam escort my advice would be to find a place that charges more (yes pay more) as then you're more likely to get a good service.
Do note that by paying more won't mean you will get a better service, only your chances increase.
You're more like to meet escorts in Ho Chi Minh than other cities as that's the biggest and most tourists visit there.
If you visit dating sites like Vietnam Cupid around 5% of the girls on there are working as escorts so it may be worth messaging them.
When meeting escorts in Vietnam if they give off any bad energy, are rude or forceful in their messaging I would avoid meeting them.
Vietnamese prostitutes things to know
Vietnamese prostitutes are more or less the same as escorts in their service.
When anybody asks about the Vietnamese prostitutes scene I'll tell them to stick to their massages instead.
Vietnamese prostitutes (freelancers) mainly target tourists who are here for a short-stay and they are not bothered about the service they give but rather how much money they can get from you.
If you visit a night club and are drunk and a Vietnamese prostitute makes any advances, be careful.
If you intend to bring a Vietnamese hooker to your apartment make sure everything valuable like your passport is locked in a safe so if she tries to do anything she cannot take much.
Read: My guide on Hanoi nightlife and bars and where to meet cute girls in Da Nang.
A good tip is to leave small money lying around (under $30) so if she does get aggressive just let her take the $30 and then leave.
My personal opinion if you want to meet Vietnamese prostitutes is to visit a bricks and mortar place as the service offered is much better and you have somewhere to in case of issues.
Finding Vietnamese prostitutes isn't an easy task, if you land at Ho Chi Minh, the main tourist area D1 will have very few Sagion girls and you'll need to do your own research into other parts of town to find out where they hang out.
Below I've written a few common bars and clubs where you can find them but locating Vietnamese prostitutes is not as easy as Thailand.
Vietnam Girl prices
Prices vary greatly for Vietnam hookers.
Expect to pay the highest Vietnam girl prices for escorts and freelancers.
I find the rates by massage shops the best and service.
The price of a Vietnamese prostitute will be anywhere from $80 upwards
Ho Chi Minh hookers online
If you use one of the crappy dating apps you will find several Ho Chi Minh prostitutes. None of the hookers in Ho Chi Minh look like their profile pictures and some accounts are run by pimps.
The price of a callout for a Ho Chi Minh prostitute is around 1 million VND and the service is so bad that you should avoid them at all costs.
Regardless of the what the girl/pimp says will have in the chat, most will ask for the money up front and after 5 minutes ask you to hurry up and cum. If you fight your corner they will go bat shit crazy and cause a huge scene treating their boss will come and kill you.
You might think I'm over playing this, but if you use crappy apps to meet hookers in Ho Chi Minh you're asking for trouble.
Unless you're going to a Vietnamese sex massage, avoid Vietnam hookers at all costs in district 1.
Go2 bar for Vietnam prostitutes
Go2 bar is located in Ho Chi Minh nightlife district one and have freelancer Vietnamese hookers on the top floor. Prices will vary from 800k VND upwards and unless you have a super sharp eye, you'll be getting a very bad experience.
If you're drunk and bring them back to your room, there's a good chance they will rob you and leave you while you're having a shower.
Prostitutes in Ho Chi Minh City are hardcore and it's nothing like meeting a Thai hooker.
Vietnam hookers on motorcycles
Many of the Vietnam hookers operate on motorcycles, stopping to proposition guys. If there is a problem with police they just zoom off to another district. In Saigon the going rate for these hookers is around $30 to $60 for short time sex.
A hot spot for cycle hookers in Saigon is Hoa Binh Park, you can also find hookers in Phan Ngu Lao and Bui Vien streets.
Karaoke venue
Possibly not the first place you would look to find a Vietnam hookers but in Nam these KTV's are not always what they seem.
Some of the young girls working in these bars play the role of hostesses, they work to take men into dark secluded rooms to sing then to go back with him to his hotel.
Most are students and earn coupons for their extra attention from the bar. You have to pay the bar for the intimate attention, around $30. You will then have to pay her directly for the extra night service and this can be anything up to $300.
Related: where to meet girls in Hoi Ann.
In Saigon there are a lot of these bars around districts 1 and 3. There are also some quite odd places that you would never imagine to find Vietnam hookers.
Restaurants

Believe it or not there are a few Restaurants Boom Boom, where you can dine and also nosh in both senses of the word.
Barber salons

Popping for a quick trim might be better than you thought, there are many barber shops that offer something for the week as well as something for the weekend.
They are easy to spot as they normally have a few sexy girls dotted around unlike normal salons.
All you have to do is pay the cashier for your short back and sides then you will be offered a massage. A girl will escort you to a chair and massage your shoulders recline the chair then give you a great blow job from a bar in Saigon.
How safe is it to bring hooker back to your hotel?
Most stories I hear about people getting hookers in Vietnam are bad. I was with a friend in the backpacker area one night and we went to a go go like bar.
Vietnam hookers were very pushy and one even got angry when she told us an over inflated price and we said that was too much.
The common trick I hear is that the girl will tell you to go shower and clean up, while you shower she will steal whatever she can from your room and leave.
I had another friend who booked a girl from and when she came over she first demanded the money which he gave. Then she said it was more to take off her clothes and when they started having sex within 30 seconds she told him to hurry up and she had to go.
He said overall it was a bad experience, she left shouting at him telling him that someone will come and beat him up. Nobody ever came but he said the entire hooker experience was bad.
One of my friends did get a hooker from a HCM club and he said the service was good, so reviews are mixed out there I would advise not to drink too much and really see if your girl is into your or just looking for money.
Are hookers free of STDS in Vietnam?
Good one.
Always wear a condom when sleep with hookers in Vietnam. I suspect that many of them don't always practice safe sex and many will carry on working even if they have caught something because they need the money.
As with all types of mongering, always be safe and use safety measure to reduce your chances of getting HIV or STDs in Vietnam.
Hotel Massages
Some hotels like the ones I've talked about in my happy massages in Vietnam do offer extra services such as hand jobs and sometimes even full sex, although getting the latter can be very hard in most places.
One place is the Dai Nam hotel in HCM who offer HJ only, the massage is right next to the hotel:

Vietnam hookers in hotels are typically cleaner and are told about safe sex so I'd always advise going to a brothel or massage shop over picking up a hooker from the street. It's also much safer as if you have a bad experience you have a place to go make a complaint.
Are prices for westerns more?
Of course.
As soon as they see your white skin the price is more and the Vietnamese hooker will typically ask for you a higher tip. Don't expect to get the local price for anything unless you're with a local or can speak Vietnamese very well.
The prices they give you won't be anything crazy but expect to pay 10-20% more than locals. You can pay in USD and VND.
Ladyboys

In Saigon shemale hookers can be found in the streets on scooters. They tend to cruise around Thi Sach, Hai Ba Trung and Dong Du. Normally they ride in pairs on one bike, for security and also whilst one is driving the other is looking for action.
Another notorious area for ladyboy hookers is Pham Ngu Street.
Surprisingly these ladyboys charge less than Saigon's normal hookers and will go with you short time for less than $20.
If you want to meet normal Viet girls and not pay for sex, check out this article.
It can be really confusing some of the places sex is available in Vietnam and the oddity that where you expect to find a Vietnam hooker they are not there.
It's much harder to find sex services in Hanoi than other parts because it's still fairly traditional.
Bear in mind that Vietnam does not really encourage sex tourism and as a consequence the Vietnamese prostitutes tend to be more expensive than in other countries.
Having anything to add about Vietnam hookers? Leave a comment below.