6 Happy Massages in Vietnam
Massages in Vietnam are a great way to relax and in many places, there are services being offered. Vietnam overall does not offer a great nightlife.
In Vietnam they offer legitimate massage as well as happy-ending massages.
If you want to meet Vietnamese girls easily, check out my personal experience of their biggest online dating site.
What is a Vietnamese Massage?
Compared to the massage in Thailand, massage in Vietnam is derived from Chinese massage which involved focusing on points to release tension and knots in muscles. On the other hand, Thai massage involves stretching, muscle movement and moving limbs.
In this article I'll show you where to get normal massages and extra special ones in Vietnam.
Neko Nuru Massage
You'll find it mentioned on most of the internet that Neko Massage is the best place in Hanoi for erotic massages.
They have the biggest and most stunning rooms I've seen in Hanoi, on average there are around 35 girls to choose from per day, and prices are in English meaning you pay the same as locals.
Prices start are 600k VND for a 1-hour massage where you're bathed and given a body-2- body Nuru massage with a happy ending.
A tip for the girl at the end will be around 600k.
They have English-speaking staff so you can contact them if you have any questions, you can visit their site at NekoMassage.vn.
Whatsapp/ZALO: +84 96 808 4689
J Spa
One of the best places to visit for a happy ending massage in Hanoi is J Spa with prices starting at $26 USD upwards. Price for foreigners and Vietnamese are exactly the same.
Their facilities include the following: sauna, salt rock bath, shared bath/wine bath with massage technicians, full body massage, NURU, HJ, BJ.

They have over 30 separate massage rooms extremely luxurious and clean with modern equipment. Equipped with Himalayan salt rock sauna and water massage bed. Consists of more than 50 girls aged 18-23, extremely beautiful, young and well-trained by Nhung Lady – Director of Vlady Love Academy, a member of the International Association of medical sex learning.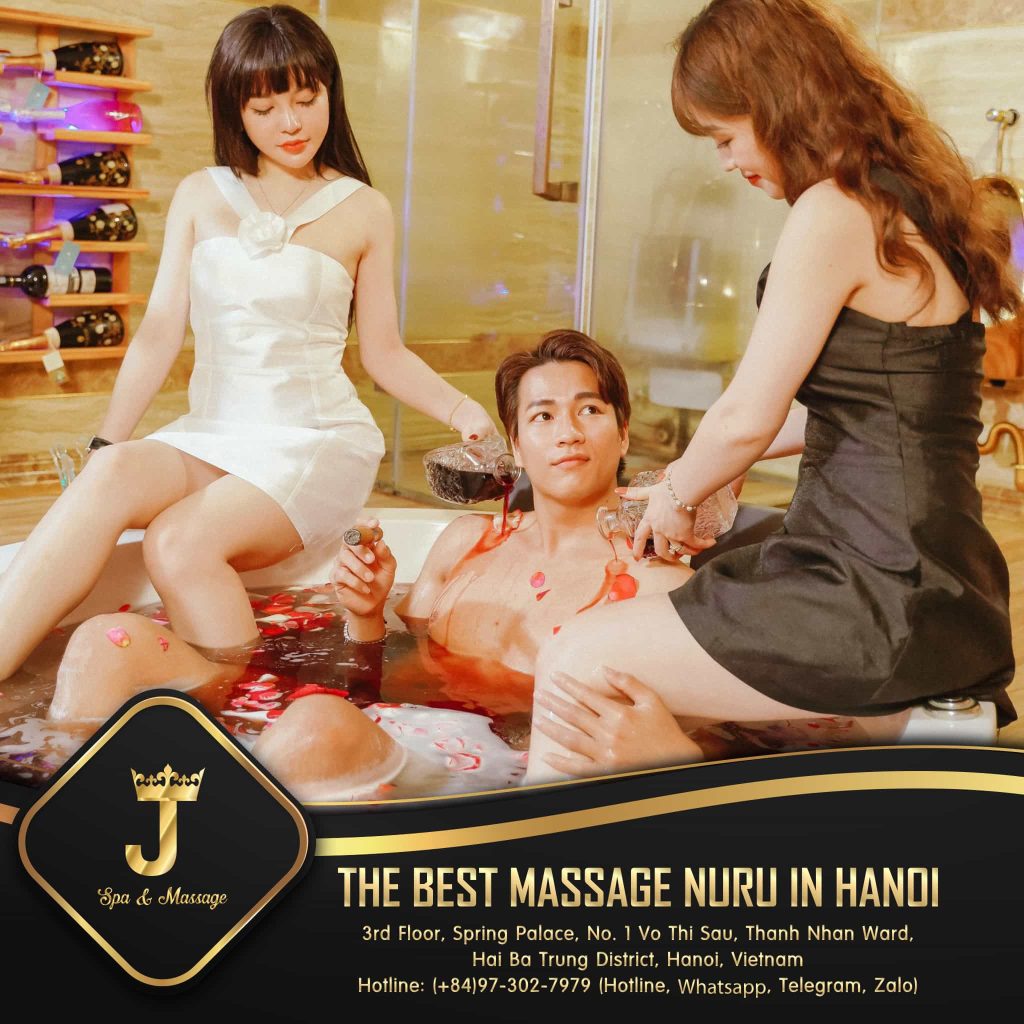 They are located not too far from the center of Hanoi, have great English-speaking staff and accept cash along with Visa and Mastercard (free charge, there is no extra 2-3% fee unlike other shops).
If you'd like to contact them beforehand to book (I strongly recommend this), you can contact them 84-973027979 using Whatsapp, Wechat and Telegram, you check out their website at www.jspamassage.com
Be sure to tell them A Farang Abroad sent you to get that VIP experience.
Dai Nam massage hand job
The Dai Nam hotel is located in the heart of District 1 in the backpacker area. There are two Dai Nam hotels, but only one offers handjobs.
To find the Dai Nam hand job massage, walk into the hotel and on the left you will see two glass doors and walk to the end and take a right. There will be a Vietnamese guy waiting next to the lift asking if you want a massage at Dai Nam.
Upon entering you will be in the lobby and the women at the reception will ask what massage you would like:
Every massage at Dai Nam comes with a happy ending except for the foot massage. The VIP and SUPER VIP are bigger rooms where the girls also bath you naked.
Before you take your massage, you will have the option to use their Swedish sauna, steam room and hot baths. When you come out the stream room a guy will ask you for a VIP shower, if you follow him, you will get a non-sexual rubdown with a warm towel. You will need to tip him around 30-50k VND.
If you don't want this then politely say no and shower yourself.
Dai Nam massage is strictly hand jobs only. You can not get blow jobs in Saigon or full sexual services here.
Girls will just not do it no matter what you pay them. If you want to change your girl before the massages starts, you can ask her to switch with someone else, however you cannot choose who you want.
After your massage is over the girls will hand you a card where you write down their tip. The normal price is around 250k-300k VND for a hand job. Depending on how much of an amateur you look like, they will ask for 500k VND or maybe even 1 million VND.
It's really up-to-you what you pay for your hand job massage at Dai Nam. But the minimum tip should usually be at least the value of the massage.
Vien Dong happy ending massage
Vien Dong is another hotel in the heart of Ho Chi Minh City District 1 that is a strictly hand job only massage. The massage is located inside the hotel on the 2nd floor.
When you enter the hotel, the lift will be on the right and go to the 2nd floor.
Vien Dong handjob massages offers the same prices as the Dai Nam massage, the rooms are the same and they offer a sauna service. Vien Dong HJ massage works in the exact same way as Dai Nam.
Once again girls will ask you to tip them 500k VND or more, but the going rate is usually 250-300k or the minimum amount of the massage you selected.
Related: learn everything about Vietnam escorts.
Vien Dong massage in Ho Chi Minh City does not offer BJ or any other sexual services other than hand jobs, there are also no Vietnam ladyboys working here, I asked them.
To get laid for free in HCM city, read this article.
Happy ending massages in Ho Chi Minh District 1
There are lots of happy ending massages in District one, you will find a lot in the main backpacker area of Bui Vien.
Visit with caution as some of these places will tell you one price and VND then when it comes to payment they will tell you they meant VND.
It's best to look around or use either the Dai Nam handjob massage or Vien Dong massage. Most people will tell you that both are expensive and you can get cheaper if you go to the outer areas of Ho Chi Minh.
District 10 sex massages in Ho Chi Minh
If you visit the Le Hong Phuong area you can find full service massage shops in Ho Chi Minh:
When I was here back in 2016, I remember walking near this area and seeing a few shops in empty streets with neon signs. There is usually a guard outside the shop and as soon as he sees you, he will whistle you over and ask you to go inside.
There is usually a guard outside the shop and as soon as he sees you, he will whistle you over and ask you to go inside.
During my last visit the girls inside weren't nothing special but I did wonder in around 2pm, so I'm guessing there is more choice around 5-11pm when people finish work.
Unlike District one where you can only get handjobs, in District 10 you'll be able to get full sex, blow jobs and whatever else it is you need.
Places where you can get a good Vietnam massage

Massage parlors in Saigon – these are where you can actually get good massage service. It caters to everyone – male or female. They offer other services such as foot massage, reflexology massage or ventosa (hot stone). Massage parlors that caters to men only, also provides additional legitimate service for pampering such as shaving, sauna facilities and you can also order food.
Roadside or Beach – you can either get a massage, with clothes on, on the side of the street or even while you are enjoying the beach. This is cheaper compared to the service being offered on legitimate spas.
Plan to visit Hanoi on this trip? Read my guide on where to get happy endings in Hanoi and where to meet girls in Da Nang.
Foot spas – tired feet can find solace for this type of service – but it is really just up to that. Places that offer foot rub also offers other service such as pedicure, etc.
Happy Ending massages in Vietnam

When you think that you can actually get happy ending massage in Vietnam, then you would have to think again. Often times, the skimpy the girls wear in a massage parlor the more likely they are a legitimate massage spa. Unlike in other countries where happy ending is most likely advertised, in Vietnam if you want to get a happy ending you would have to find the needle within the haystack.
There is one place that is located around Hoang Van Thu Park that is near the airport. There are several massage parlors in this area. Happy ending costs about 1 million Dong if you are a foreigner, but you can haggle it down to around 200-300k.
If you head to Ho Chi Minh, you can also find several here in the backpacker areas, the girls in District 1 will not offer a full sex massage, only handjobs.
These massage places caters to foreigners and locals alike. Vietnamese girls are pretty compared to other countries I have been but the mama sans can be really too pushy. There are also places where women will allow you to touch and rub them.
On another thought, happy ending massage in Vietnam is also available and you can get it from establishments that are located on top floors of a hotel. But this includes for you to write down your details and pay entry ticket. Of course, tipping is important in these establishments.
Not So Good Massage
Why am I saying that it is not so good, the massage itself is not that bad? It is not so good because I am talking about getting laid. Most establishments that offer massage in Vietnam are owned and controlled by the government. Sleazy massage parlors have been raided once or many times so you have to be careful with that.
If you are a foreigner, you are most likely to get the oldest masseuse because they reserve the younger ones to local patrons. Local men would complain if they get the older ones. However, if you visit the massages I stated above many of the girls are in their early 20s and really, really hot.
Happy ending massage in Vietnam often lasts for about 45 minutes. At the end, your masseuse will ask if you would like special service which costs about $30 for a hand job. If you are good at bargaining, you can low ball the price down to $20 (which is about 200,000 Dong).
The average price for a handjob in Vietnam is around 250,000 Dong and the price of the massage.
A Little Bit of Action
I can tell you that the girls who are offering the service in these massage parlors don't really look bad at all. They are usually scantily clad women but it is quite difficult for you to gain easy access. If they are up for it, they will let your hand slide up and down their jumpers or some would even get their tits out. Despite of all these, they will still pamper you. Let you on a steam room, give you a wash down the tub and give you a good massage. For a hand job, you can pay in between 300,000 to 750,000 VDN.
To be honest, the service for happy ending is illegal. Rooms in most massage parlors have a small window on the door so that management can monitor if something is going on between the client and the masseuse. Girls will be terminated if they get caught offering "extra service."
Are girls free of STDs?
In full-service sex massages in Ho Chi Minh, all the girls will ask you to use a condom. I am actually not sure on what their policy is over there on how often they get tested, as in Thailand it tends to be around every 3 months.
I always advise you to wrap up and wear a condom anyway as STD rates are quite high in Vietnam. If you're worried about getting STIs then I suggest you avoid massage shops and find yourself a normal local girl off a dating site.
The best part of massage in Vietnam
Ho Chi Minh or Hanoi offers great massage services. There are several parlors that you can go to but that actually depends on what you would like to avail. While it is not as rampant compared to Thailand, you can still be able to avail happy ending massage in Vietnam.
The best thing about these is that girls are actually beautiful. They are far better looking than Thai girls. Another good thing is that they are not as aggressive. These girls are a bit shy and would take a hint if they know that they are being rejected. Rejected? Who would reject a petite, sexy and pretty girl? A guy can have a full hour service (massage and happy ending included) from a beautiful 19 year old Vietnamese girl for about 70 USD.
Recommended places to go to:
Please note that these places are legit massage parlors.
If you are in Ho Chi Minh City, places in District 1 such as Nails & Beauty Shop, Cat Moc Spa or Indochine Spa.
If you are in Hanoi nightlife check out:
There is Omamori Spa in Dong Da District, Just Massage in Tay Ho District and Moc Spa in Hoan Kien District.
It is also helpful if you know a little bit of the language so that it would be easier for you to negotiate with the masseuse, especially if you would like to avail of the "happy ending" service.
Happy ending massage in Vietnam
We all agree that massage offer great relaxation. If you are in Vietnam, you will get you massage plus extra services for even better relaxation. One of the extra services are happy ending massage in Vietnam, one that I will tell you more in this article.
Vietnam is among the top Asia sex tourist destination, and for a reason. The local girls are cute and their plus plus services are highly recommended to any one looking to have fun in the country.
What is Vietnam massage?
You can get either normal /family/couple massage or erotic massage (handjob, boobjob, sex, and blowjob) in Vietnam.
All you have to do is find the right one. Otherwise you might find it awkward when the masseuse's hand wonder "accidentally" to your pants.
I have a lot of good happy ending massage experience in Hanoi red light district. Don't be surprised if a masseuse ask you if you are interested in marriage.
Hanoi girls are attractive yet inexpensive if you're looking for sex. With VND 450 K is enough to get pleasured in a fancy spa in Hanoi, HND 200k is average parlors.
My first experience was in a spa where I was free to take off my pants. In other cities parlors.
Windy VIP massage in Hanoi (windy Hotel)
Location (3 branches in Hanoi)
Windy 1 on Villa B9 Nguyen Thi Dihn, 4ht F
Windy II on 18 Nho 76 Duy Tan
Windy III on 256 Kim Nguu
Open hours: 7:30 am to 9:30 pm
Services offered
All sexual services
Blue Spa
Location: 5/5 Nguyen Khanh Toan
Open hours: 10 am to 1am
Services offered
HJ and BJs
See here for detailed info on where to find happy ending massage in Hanoi.
Tips for bro when getting happy massages in Vietnam
Just because you find scantily dressed ladies outside a spa doesn't quality it to be a pink spa. In fact, you will find most girls in the parlors wearing sexy little uniform that show lots of skin and cleavage with the same girls making it difficult to grope the goods.
In some spa, the girls will let you slide your palm under the skirt as the fun get going. Other will let go their bras and allow you to knock yourself out.
In any decent or upscale happy massage spas in Vietnam, all ladies will be pretty. Masseuse in cheaper spots might look a little skanky but their skillset will make you explode.
For those looking for normal massage, foot massage works great if you spent most of your day touring the city.
Unlike erotic, which must be done behind doors, you can get normal massage by road side or at the beach.
In fact, roadside foot massage are cheaper and equally rejuvenating as those done in Vietnam massages.
In any of these roadside foot massage spa in Vietnam, the routine is simple. You will lie down on a chair, sometimes a bed and given some shorts to change.
Regardless of the place, you are guaranteed to fall into a state of complete bliss for the duration of your foot massage.
If you opt for a normal massage in the spas, the massage menu can get quite lengthy. Here, don't expect a $5 Vietnamese foot massage but the extra facial, body scrubs and related spa treatment makes it worth.
Something similar that in both normal and happy ending massage in Vietnam is tipping.
For example is your happy ending massage service cost VND300K, the tip can go as high as VND200K. Basically expect a tip of between 10% and 30%.
Reason? Girls who work in these establishment are paid on commission so they make most of tips.
Note that the tip issue catch a lot of westerners by surprise. In any case, it's advised that you asked the total payment in advance.
For the spas and foot massages in Vietnam, the total cost (massage + tip) is as per advertised. If such details are not listed, be sure to clarify.
While some massage accept credit payment, it's recommended to always carry cash.
Another word of caution. Leave most of your baggage at your hotel. If a happy ending spa look suspicious, trust your guts.
You could choose to try other 50+ parlors in the area or go back and leave the baggage safe in your hotel.
For the ladies, not many male work on foot massage spot. Try to find a masseuse, otherwise you can opt to relax and enjoy the massage only if the therapist hand don't cross the boundaries.
If you want to meet Vietnamese girls easily, check out my personal experience of their biggest online dating site.
Massage in Vietnam which offers sexual services are also considered to be quite expensive compared to other countries in South East Asia particularly Thailand.
Where do you go to get a happy massage in Vietnam?