Hanoi Nightlife Guide For Beginners
In this article I talk about the best nightlife spots in Hanoi.
Hanoi is a vibrant city and houses the 2nd largest population in Vietnam. But we are not going to focus on what Hanoi's rich history is; instead this is to point out Hanoi's nightlife.
Hanoi nightlife is like no other with lots of local girls. Here are some of the best places that you can go to and do when you are in the city to enjoy the most of what it has to offer:
If you want to meet Vietnamese girls for free, then check out this article.
Just like any other countries in South East Asia, Hanoi also has its best nightclubs and bars. You can be able to find the widest selection of pubs, nightclubs, and bars within the Old Quarter so it is not so hard to miss. You can choose from the upscale type to the side street type, it does not matter as long as you have good fun the Hanoi way and find sex.
The only downside is that you can't compare Hanoi's nightlife to any other nightlife in Bangkok or Ho Chi Minh City nightlife, because it couldn't get as dirty as the latter. Prostitution is visible but can only be found within the upscale bars from the hotels (but just beware of the scams as it is just prominent).
J Spa
One of the best places to visit for a happy ending massage in Hanoi is J Spa with prices starting at $26 USD upwards. Price for foreigners and Vietnamese are exactly the same.
Their facilities include the following: sauna, salt rock bath, shared bath/wine bath with massage technicians, full body massage, NURU, HJ, BJ.
They have over 30 separate massage rooms extremely luxurious and clean with modern equipment. Equipped with Himalayan salt rock sauna and water massage bed. Consists of more than 50 girls aged 18-23, extremely beautiful, young and well-trained by Nhung Lady – Director of Vlady Love Academy, a member of the International Association of medical sex learning.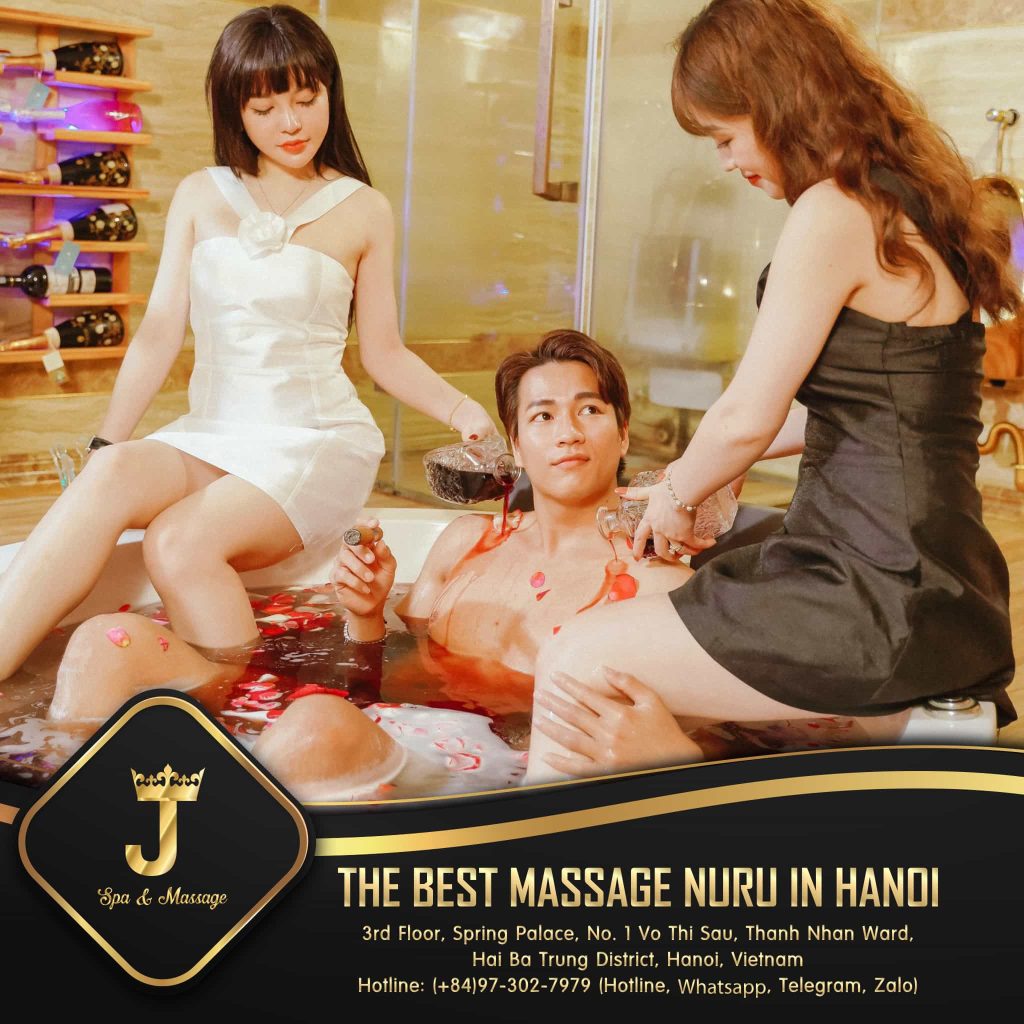 They are located not too far from the center of Hanoi, have great English-speaking staff and accept cash along with Visa and Mastercard (free charge, there is no extra 2-3% fee unlike other shops).
If you'd like to contact them beforehand to book (I strongly recommend this), you can contact them 84-973027979 using Whatsapp, Wechat and Telegram, you check out their website at www.jspamassage.com
Be sure to tell them A Farang Abroad sent you to get that VIP experience.
Here's a classification of different nightlife in Hanoi:
Nightclubs
Going to nightclubs is probably the best idea and place to hang out and have a couple of drinks for you and your friends if you are into the loud and techno music.
Going to Da Nang or Hoi Ann on this trip? Then read my nightlife guides on them below:
Where to meet local girls in Da Nang
Most patrons consist of young locals and expats. Most of these places offer cocktails, beers and liquors. They also have happy hour and drinks are usually priced fair starting at 70,000 VND.
Bars/ Lounges
Bars are a bit tame compared to nightclubs – in Hanoi they also have different types of bars ranging from sports to themed-bars or classified based on the music they are playing (such as Binh Minh's Jazz bar).
If you want to check out Vietnamese hookers, read my Hanoi Red light guide.
Beer Gardens/ Side Street Bars
If you want to have the open type or having a drink or two al fresco, beer gardens or side street bars are the places to go. These places are patronized mostly my locals and even foreigners because of its unique twist. They offer local shows and local draft beers which are also sold at a very reasonable price.
Related: find out where the best sex massages in Vietnam are.
Top places to experience Hanoi Nightlife:
To give you a tip on which places to visit for a fun Hanoi nightlife, here's a couple of them –
Sunset Bar at InterContinental
If you are a fan of upscale bars, then Sunset Bar is the place. Located on a man-made island at InterContinental Hanoi West Lake, this is a nice place to relax and have a drink or two (that is, if the budget permits). The interior is very updated, urban and classy at the same time. They offer a wide range of liquors, cocktails and even local or imported beers which start from 90,000 VND. They also have a happy hour in between 5 pm to 7 pm and they are open from 4pm to 12 midnight.
O'Leary's Sports Bar
If you are a sports fan, O'Leary's is your place of destination. The place is a reputable bar with branches sprawled in few other countries. Their interior design will take you back to some of the highlights of sports events through its memorabilia. They have cozy chairs and sofa, which is the typical Western sports bar ambiance. Expect to see draft beers but they also serve cocktails and spirits as well as the undying Western comfort food such as burgers and fries.
Rockstore
Rockstore also gives you the sports bar feel. It is a bar, pub and a restaurant in one situated in Old Quarter. The owner seems to like big music icons such as Jimi Hendrix, Elvis Presley and The Beatles so you can expect patrons who are also within the same age bracket. What's interesting is that they hold themed parties each week and that attracts young clients as well.
Pressclub
Pressclub is an upscale bar/ restaurant which houses 2 –star Michelin chef so you can expect to have gourmet food being served. If you don't have the budget, this is definitely not a good place to go. But you will be able to see foreigners here mostly having a drink or two.
Binh Minh's Jazz Bar
If you have eclectic taste and you feel that you would like to listen to some jazz music, then you should go to Binh Minh's. They have just recently relocated behind the Opera House and usually play live jazz music every night. If you are not into jazz music, this is not a good place to hang out just to have a drink since the menu is not typically priced fairly. Maybe because you get to listen to live jazz music, the price pretty much includes live entertainment nightly.
Legend Beer
Legend Beer is located on the 3rd floor of a building in downtown area. They serve German beer and also other European beers as well as German grub. They can be a little bit expensive since they brew their own beer hence the name, Legend Beer. You will also have a great view of the busy and hustling city of Hanoi so it is a great place to go to unwind especially after a long day at work or touring the city.
King Pirates Club
Most people would usually opt to have a drink at the regular pub. But if you want to give it a twist, King Pirates Club is the best place to go.
Read my article on where to get happy ending massages in Hanoi.
They have a nicely-themed pub although the place is not too big, there are also tables and chairs on the outside to accommodate more patrons. From the name itself, expect to see pirate costumes and anything of its sort.
Bia Hoi Junction
Located at the center of Old Quarter, it offers a wide variety of beer offerings for those with eclectic taste. This is where locals and even tourists go to and enjoy Hanoi nightlife. You haven't been to Hanoi if you haven't sat down and have a drink or two in this place. Why is it famous? They offer cheap beer for as low as 5,000 VND!
If you want to meet Vietnamese girls for free, then check out this article.